C40106B - Pacbrake PRXB Exhaust Brake Caterpillar 3126B / 3126E / C7 4" Full Marmon
PLEASE READ!!!
Order Shipment Notice:
Most orders are shipped within 24 hours from the order date. Orders placed on the weekend or after cutoff on Friday, and orders placed on select holidays are processed on the next business day. Please see our shipping terms for more information.
Part # C40106B PRXB Exhaust Brake Caterpillar 3126B / 3126E / C7 4" Full Marmon
Description:
Pacbrake's flagship product, the PRXB (pressure regulated exhaust brake), is the unquestioned leader in the supplemental brake industry. The patented PRXB design delivers the strongest braking horsepower, greatest speed reductions and shortest stopping distances possible without the use of service brakes. It maintains optimum retarding performance by maximizing the exhaust backpressure throughout the entire RPM range. Unlike a typical exhaust brake, which requires high RPMs to work properly, the PRXB delivers constant exhaust pressure (braking) as early as 1200 RPM through to the maximum allowable RPM.

Controlled by a master ON/OFF switch, Pacbrake's exhaust brakes provide whisper quiet supplemental braking that allows service brakes to be used much less, ultimately saving you money. They have the ability to be left on all the time, making it ideal for in-city driving or for steep, downhill grades. This product pays for itself as less wear on the brake pads means fewer brake jobs.

WHAT'S SO SPECIAL ABOUT THE PRXB?
In order to have consistent and effective braking over the entire RPM range, it is important (and necessary) to maintain constant backpressure. To achieve this, Pacbrake's patented design has incorporated an additional waste gate on the butterfly valve to regulate the amount of exhaust flow that is being passed through. The flow is controlled by a spring-loaded arm, whose pressure rating and location are key factors in the functionality of the PRXB. Located outside of the housing and away from the heat, the spring is able to maintain its strength and durability for years of proper and precise braking performance.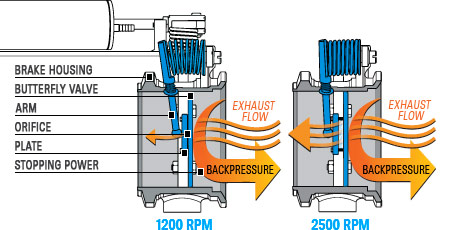 CREATING & MAINTAINING BACKPRESSURE
Backpressure is created by exhaust flow entering the housing, hitting the closed butterfly valve and being forced back out in the direction it came. It is maintained by the pressure-controlled spring that is located on the outside of the exhaust brake housing.

PREMIUM BRAKING PERFORMANCE
As the engine's RPM increase, the spring compresses and the arm moves away from the butterfly valve, therefore releasing more exhaust flow through the orifice. As the RPMs decrease, the spring releases and the arm applies pressure back onto the plate, covering the hole, and ultimately releasing a smaller amount of exhaust flow.

There is less than a 10% change in backpressure over the entire RPM range on the PRXB





Features & Benefits:
PRXB Delivers Strongest Braking Horsepower

Less Wear & Tear On Service Brakes

Ideal For In-City Driving Or Steep, Downhill Grades
The state of California requires that this warning be posted for people purchasing products that reside in California.
WARNING: Products may contain one or more chemicals known in the State of California to cause cancer and/or birth defects or other reproductive harm. For more information, visit www.P65Warnings.ca.gov