734001 - PDI Big Boss Performance Tuner Kit ***Free Mount Included***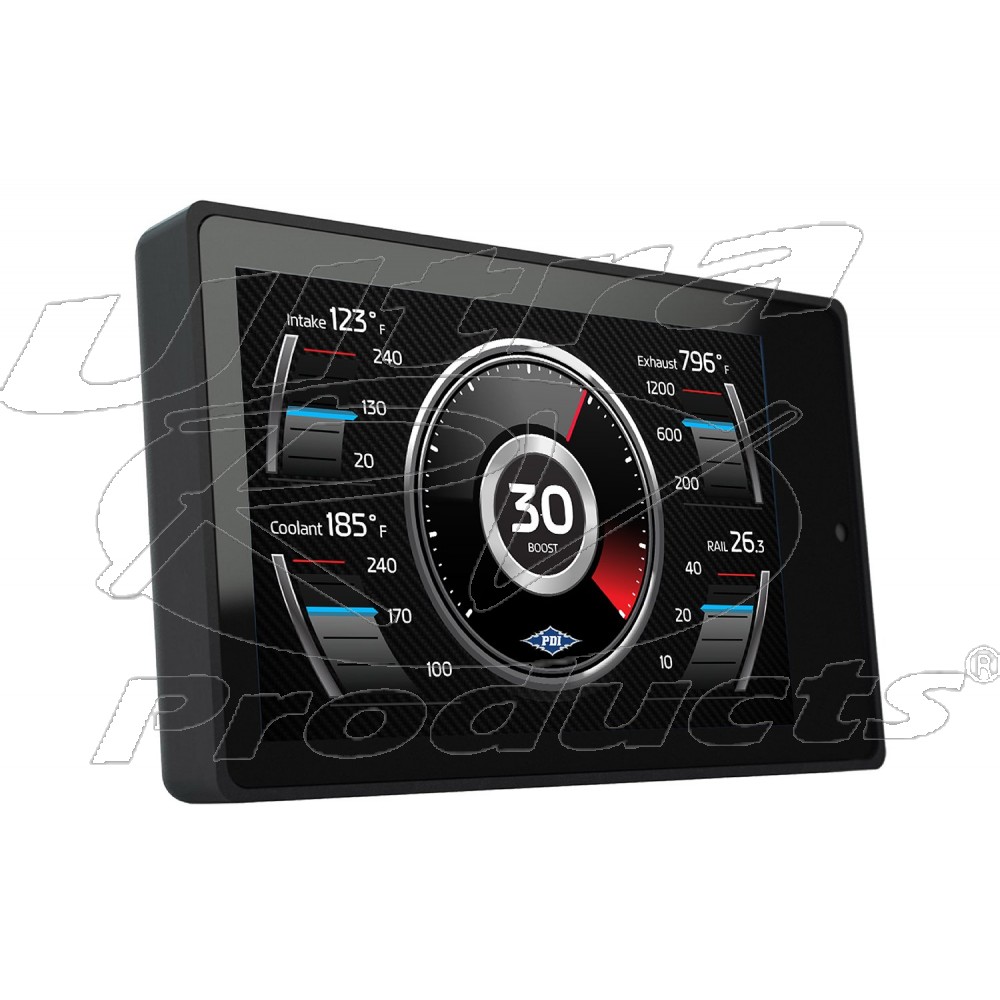 PLEASE READ!!!
Order Shipment Notice:
Most orders are shipped within 24 hours from the order date. Orders placed on the weekend or after cutoff on Friday, and orders placed on select holidays are processed on the next business day. Please see our shipping terms for more information.
734001 - PDI Big Boss Performance Tuner for Cummins, CAT & Detroit


An industry leader in Big Rig Performance, Performance Diesel Inc. (PDI) has taken their industry-leading tuning that has delivered unbeatable results for efficiency and power. PDI's Big Boss Performance Tuner brings all the benefits of tuning without all the hassle. Simply plug it into your diagnostics port and follow the easy instructions. Now big rig tuning can be used on RV's with just the press of a few buttons. Not only is the tuning easy to install but the simple design lets you customize gauges, change vehicle settings and read or clear codes.
Special Note: We have found on some RV's, particularly Tiffin, the ABS fuse & Transmission MUST be removed in order for the device to properly communicate with the ECM. The fuse location is typically in the right hand rear compartment next to the engine. We have also found that vehicles equipped with an Anti-Collision System, such as Mobile Eye, has to have its fuses removed as well.


Key Features & Benefits:
Simple, Easy Install

Gain Fuel Mileage, On Average +½ MPG

Does Not Leave A Footprint

Can be Quickly Returned to Stock at Anytime

Tune is Recoverable even if Cummins Flashes Over It

Gauge Choices Can be Customized

2 Added Power Levels, +10% Economy Tune & +15% Power Tune

DPF Manual Regeneration Test

DPF Restriction Test

Speed Limiter, Tire Size & Gear Ratio Adjustment

Read & Clear Diagnostic Trouble Codes

1 Year Unlimited Mileage Manufacturer Warranty

Monitor EGT's on Newer RV's with Factory Pyrometer

50 State Legal – CARB EO # D-773-5


Applications:
| | | |
| --- | --- | --- |
| Cummins | Caterpillar | Detroit |
| 2010+ ISB 6.7L | 2006-2019 C-7 | 2010+ DD-13 |
| 2010+ ISC 8.3L | 2006-2019 C-9 | 2010+ DD-15 |
| 2010+ ISL 8.9L | 2006-2019 C-13 | 2010+ DD-16 |
| 2017+ L9 | 2006-2019 C-15 Acert | |
| 2010+ ISX 11.9L | | |
| 2010+ ISX 12L | | |
| 2010+ ISX 15L | | |
| 2017+ X12 | | |
| 2017+ X15 | | |






Big Boss is WiFi updatable and features customizable vehicle settings along with a customizable gauge display that can reveal up to six parameters at once including turbo boost, exhaust gas temperatures, coolant temperature, rail pressure, oil pressure, intake manifold temperature, engine RPM, vehicle speed and more.




A common misconception is that ECM tuning takes longevity out of the engine. With PDI, that's wrong. PDI has extensively tested to stay within safe levels to ensure no loss of reliability. PDI makes sure all of the components are running within OEM specifications. Big Boss Tuner has been approved by for use in California by the state's Air Resources Board, no easy feat!




Dyno Run on 2007 Beaver Contessa w/ Cat C9:




The state of California requires that this warning be posted for people purchasing products that reside in California.
WARNING: Products may contain one or more chemicals known in the State of California to cause cancer and/or birth defects or other reproductive harm. For more information, visit www.P65Warnings.ca.gov